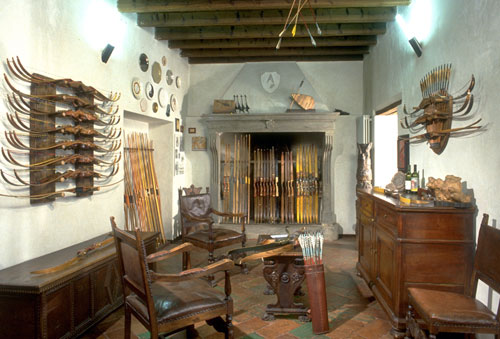 I build up my Traditional Archery Shop In Alzano Lombardo, (Bergamo) Italy, where my family lived since 1230, into my family house. It is a landmark for traditional archery in Europe. Situated in an historical 300 year old house and including an indoor target range it has a unique ambiance which will touch the spirit of traditional archers. Our showroom is one of a kind and and has fire places in every room, the walls being adorned with frescoes showing hunting scenes and decorated with period furniture. And of course a huge selection of bows!!!
We have available many hundreds of custom bows as well as a comprehensive range of more economical models all ready for you to try out using our indoor target range. And of course thousands of wooden shafts together with a full range of traditional archery equipment. We would be pleased to see you and we are sure you would enjoy a visit. Please note we only cater for TRADITIONAL BOWHUNTING EQUIPMENT.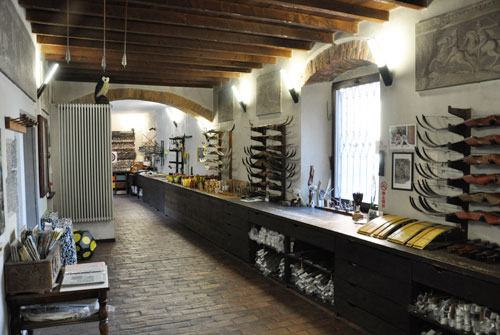 You will find my shop in the north of Italy, quite close to MILAN, located on the highway from MILAN to VENICE, 50 Km from Milan. You take the exit for BERGAMO and follow the signs to VALLE SERIANA. In this valley 5 Km from BERGAMO you will find the town of ALZANO LOMBARDO where our shop will be found in the historical center at the street address of Via Roma 13. We look forward to seeing you.