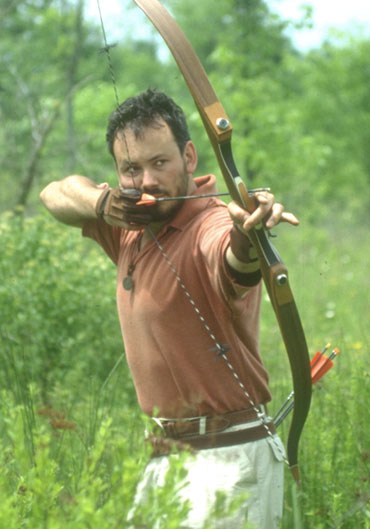 I began shooting using the instinctive style when I was just five years old. At this time during the mid sixties archery in Italy was in its infancy. The few archery clubs existing at the time did not cater for Olympic freestyle shooting due to a lack of financial support from the government.
In the city of Bergamo where I grew up the first Italian traditional archery club was formed. And this fostered my passion for this style of archery. The club with which I am still associated held the first traditional bow hunting competition in Europe. It is called "THE ROVING " and was started in 1958 - quite old for a European archery event. It is still a premier event which runs today.
I started to compete in 1973 and in 1983 the Italian Bow Hunters association (FIARC) was formed where I have been deputy president for some years.
In 1981 I began real bow hunting in North Colorado where I have returned many times. I also bow hunt in Italy where I hold a special license to hunt in protected areas for game management purposes. While hunting in Italy I became the first person for over a century to shoot a 'CAMOSCIO' which is an European mountain goat. It is very difficult to obtain a license to hunt in desirable locations in Italy.
I won my first World IFAA Bow Hunting Championship in the Recurve class in Italy in 1989. Then the second place in France in '91 and another first in Canada in '93. I also won a first in Australia in '95 but on this occasion shooting longbow.I was unable to shoot in South Africa in '97 due the the imminent birth of my first child Clara but was successful in the 1998 European Championship (see picture above). I also won in other European Championship events during '89 in Scotland,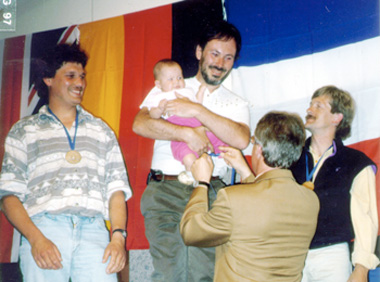 Germany and Italy.During my hunting trips to the USA I met a number of professional bowyers ( a profession unknown in Italy at the time ) and from that introduction I began to import bows for distribution around Europe in the late 1980's.
At present my TRADITIONAL ARCHERY CENTER is the largest in Europe. I supply traditional archers worldwide at both a retail and distributor level meeting many people's needs through my on-line shop.
My job is to source the best and most desirable archery equipment from around the world to meet the needs of my discerning clientèle. It is a job that I love that brings me great satisfaction.
My awards in IFAA international competition:
- 1987 EFAC in Germany = SECOND place in BH REC.
- 1988 EBCH in France = THIRD in BH RECURVE
- 1989 WBCH in Bormio Italy = FIRST in BHRC
- 1990 EBHC in Thetford England = FIRST in BHRC
- 1991 WBHC in Confolens France = SECOND in BHRC
- 1992 EBHC in Dahn Germany = FIRST in BHRC
- 1993 WBHC in Niagara Falls Canada = FIRST in BHRC
- 1993EBHC in Blair Athol, Scotland = FIRST in BHRC
- 1994 WBHC in Coimbra Portugal = THIRD in LONGBOW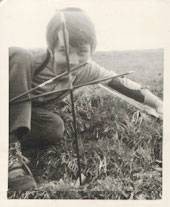 - 1995 WBHC in Hunter Valley Australia = FIRST in LONGBOW
- 1995EBHC in Asiago Italy = THIRD in LONGBOW
- 1997 EBHC in Terminillo Italy = FIRST in LONGBOW
- 1998 - 2003 PAUSE for 2 kids making
- 2003 WBHC & EBHC in Presolana Italy = THIRD in BHRC
- 2004 EBHC in Pfannerhalm Austria = SECOND in BHRC
- 2005 EBHC in Bagno di Romagna Italy = SECOND in BHRC