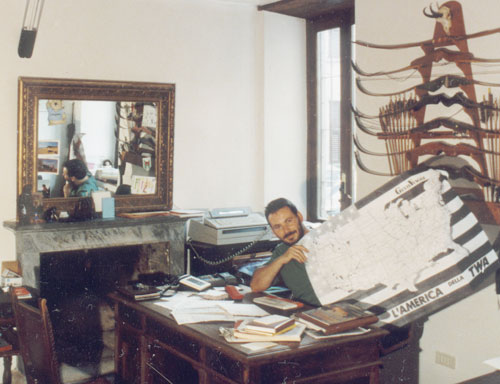 I opened my shop in 1989 at a time when no supplier of traditional archery equipment existed in Europe. This was a period when traditional archery was in its infancy and the shop was unique amidst a sea of specialty archery shops catering to other disciplines.
As a result of my first hunting trip to the Rocky Mountains in 1981 I became aware of the huge amount of traditional archery equipment available in the US that was unknown to archers in Europe. At this time about the only traditional bows available were mass produced or cheap imports from Korea bows.
During my subsequent hunting trips to the USA (bow hunting in Europe was and is very difficult) I made contact with with some custom bowyers and as a result I began to import BIGHORN bows. These were made by a small craftsman company owned by Fred Asbell who even today is a well known archer. I began by importing bows only for my friends but in this way introduced the concept of CUSTOM BOWS into Europe.
I enjoyed 7 trips in the USA ( and others around Europe ) mixing the pleasure of bow hunting with the acquisition of knowledge of traditional archery and the companies involved. Driving up to 11,000 km each trip to find the most remote bowyers. I scoured the world finding more than 200 manufacturers, appraising their products and getting to know the staff personally.
As I was the first in Europe to import custom bows I was able to select the best products and arrange exclusive distribution. This was fortunate since Handcrafted can mean great quality and unique products, but often this is not the case. For this reason the most important part of my job is to be able to appraise the quality and reliability of products and determine their value and suitability to meet the needs of my discerning customers. This is doubly important as often customers become good friends who rely on my experience in these matters.
Many archers come to the shop because of my reputation for winning World and European championships and I have to admit this has been a great help. However the thing I consider to have been most useful in my archery endeavors is the vast experience I have gained by being involved with the traditional archery scene worldwide for the greater part of my life (since 1967). The large number archers and equipment producers I have come in contact with allows me to be knowledgeable and informed about a sport still considered new by many, despite the sport being a continuation of a tradition steeped in the annals of time.
I personally converted the ground floor of the 300 year old house where I grew up into my shop.This provides the perfect ambiance, having fireplaces in every room and a 150 year old fresco depicting bow hunting scenes on one wall some might say it was destiny.
Today although sales are still done directly from the shop and through distributors the focus has shifted and the majority of our business is now via the internet. This is something of which I am very proud as I am a pioneer in this area also having had to master the new technology to be able to develop my online presence and INTERNET SHOP which began in 1996. The site now collects orders from around the world which allows us to quickly and efficiently dispatch products to our customers regardless of their location.
My main focus now is to develop and produce my own range of specialty archery equipment in order to offer the best products at cheaper prices and in this way allow the customers to get the greatest enjoyment from our sport.
To have been involved in the many aspects of developing my archery business, including renovating my shop, designing my logo, finding new products as well as designing my own and having them produced and all the problem solving that this has entailed, has been a great and exciting adventure. Many thanks to all the friends and associates who have helped me along the way.